testbank 21-06-2012 07:27
Audio Technica heeft de klein-membraanconsendatormicrofoons uit de 4000-serie nog eens onder de loep genomen. Het is ogenschijnlijk een kleine update, maar toch met grote gevolgen.
.....meer »»
testbank 25-05-2012 09:05
Als Aston Martin nou eens een DB50 uitbracht, met in het achterhoofd de DB5 uit de jaren zestig. Of, om dichter bij Interface te blijven, Neumann brengt een U470 uit, de legendarische U47 indachtig. E
.....meer »»
testbank 24-05-2012 09:05
Het maken van een goede eindmix is iets waar niet iedereen zin in heeft of toe in staat is. Toontrack snelt te hulp met EZmix.
.....meer »»
testbank 18-05-2012 09:52
De softwaresynthesizers van de grote merken worden natuurlijk allemaal in Interface besproken, maar er zijn ook een heleboel kleine bedrijven die mooie synths maken. We gingen met een schepnetje door
.....meer »»
testbank 18-05-2012 09:43
Een bundel met plug-ins die allemaal slechts één knop bevatten. Een beginnende plug-infabrikant zal hier waarschijnlijk niet mee wegkomen, maar als Waves met zo'n concept komt aanzetten, zijn we to
.....meer »»
testbank 18-05-2012 09:35
Sommige producten lijken op basis van hun voorgangers of ontwerpers al een geweldige toekomst tegemoet te gaan. Dat geldt bijvoorbeeld voor de ATB mengtafel van het Engelse Toft Audio.
.....meer »»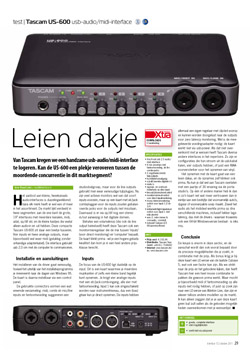 testbank 18-05-2012 09:25
Van Tascam kregen we een handzame usb-audio/midi-interface te logeren. Kan de US-600 een plekje veroveren tussen de moordende concurrentie in dit marktsegment?
.....meer »»
testbank 18-05-2012 09:07
Session Strings Pro van Native Instruments is een samplelibrary voor Kontakt waarmee je een overtuigende moderne strijkerssound neerzet voor met name popproducties. Volgens Native Instruments lukt dat
.....meer »»